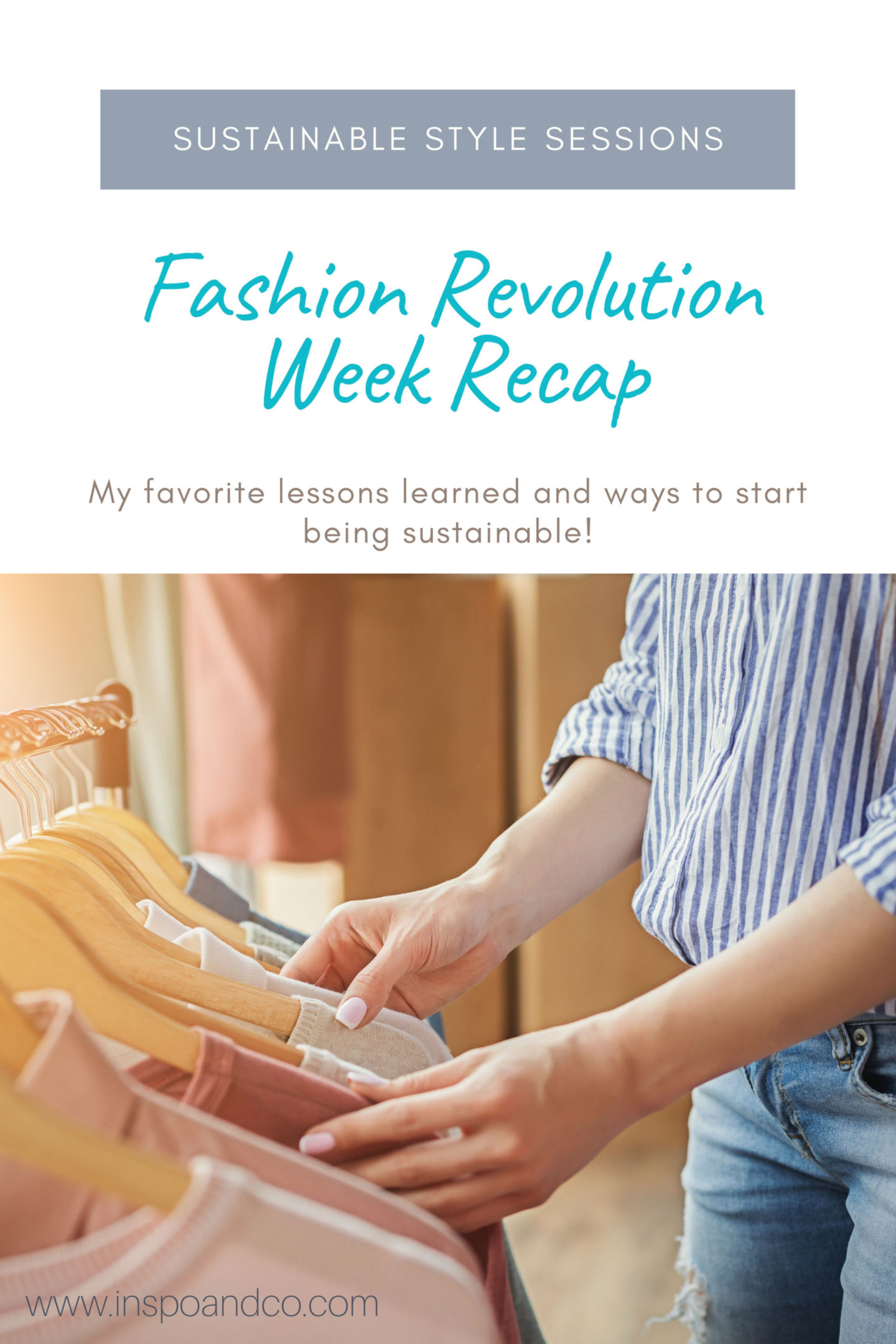 Sustainable Style and Fashion Revolution Week!
It has been awesome to talk with so many experts on sustainable style in honor of Fashion Revolution week! 
In case you weren't able to tune into my Sustainable Style Instagram Live Sessions I've put together a list below of our speaker and some of my favorite takeaways from each session!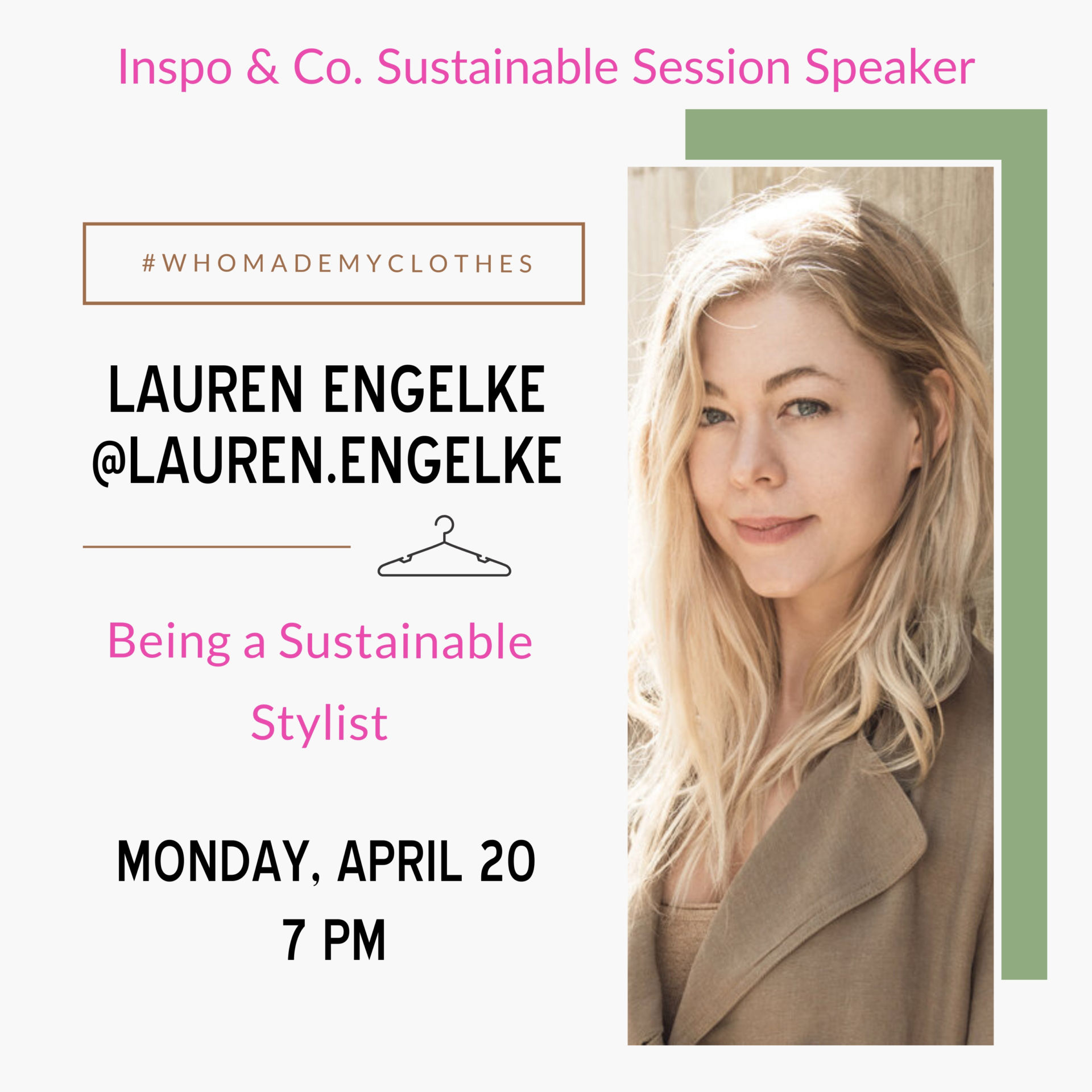 Lauren is a sustainable stylist who has a ton of good advice when it comes to making more sustainable lifestyle choices. She has taken the time to review and catalog over 1,200 different sustainable style brands on her website which you can find here.
My favorite takeaway from her session was that repurposing or rewearing things that you already have is the best no-cost way to get sustainable! We also talked about how we have been tricked into thinking that clothing should cost nothing and that we need to reeducate ourselves so that we can start understanding what is the actual cost of ethically made clothing!!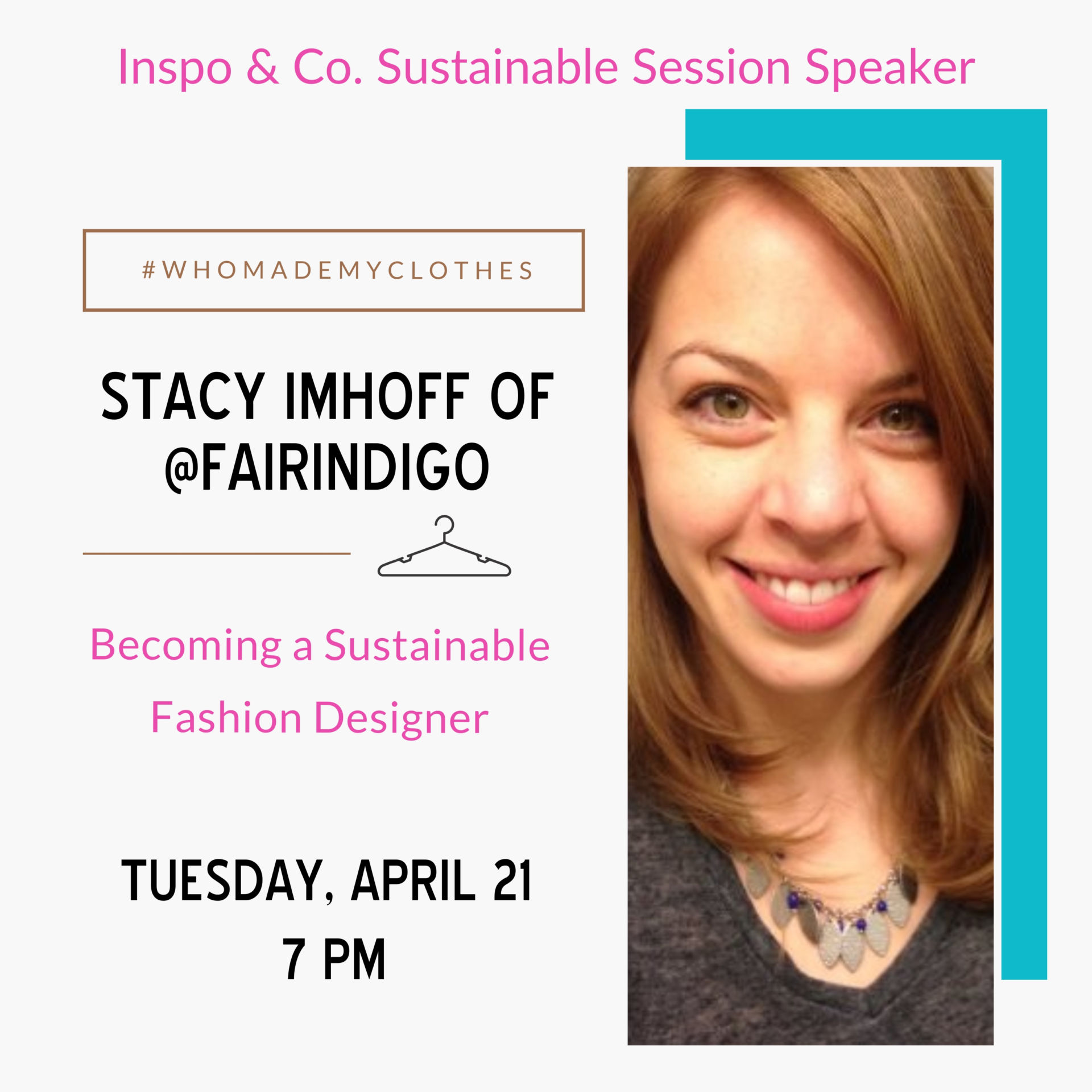 Stacy is a sustainable fashion designer at Fair Indigo and I am so grateful she was willing to answer all our behind-the-scenes questions on how clothing is sustainably made! Fair Indigo works to have a low environmental impact during clothing production, pays its workers fairly and uses organic and chemical-free fabrics and dyes. I was shocked to learn that from design to creation one shirt can take up to 18 months to make. Stacy said they estimate 92 different people take part in the full process and each one of them is treated fairly and paid ethically. 
My favorite takeaway from this session was the thought that sustainable style is "anti-fashion" in the sense that they are meant to be worn for more than a season instead of discarded for the next latest trend. They are crafted to last and be classically fashionable for a long time to cut down on waste and actually be more cost-effective in the long run.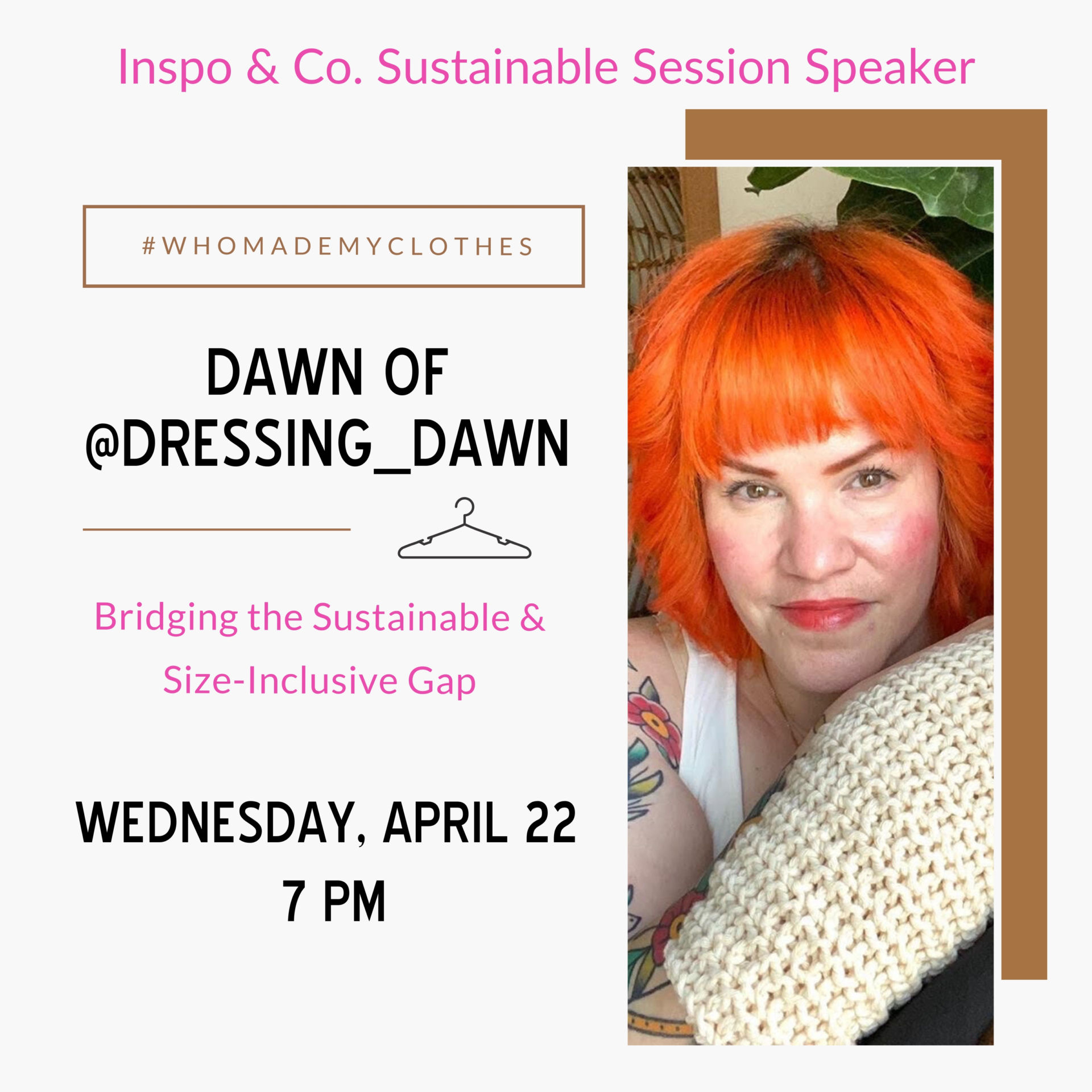 Dawn is a content creator who focuses on sustainable style and size inclusivity. She has created the #20in2020 challenge to encourage people to think critically about what they buy and to focus on quality over quantity. It was so cool to hear how she has grown in both her style and commitment to speaking up about issues within the fast fashion industry.
She reminded me that it's important to push back when brands aren't making size-inclusive clothing and to not be afraid to email them or reach out on social asking for clothing in your size. Customers have a power that they don't realize sometimes and we should use it to incite change. She also had so many great size-inclusive and sustainable style brands so check her out for those great resources!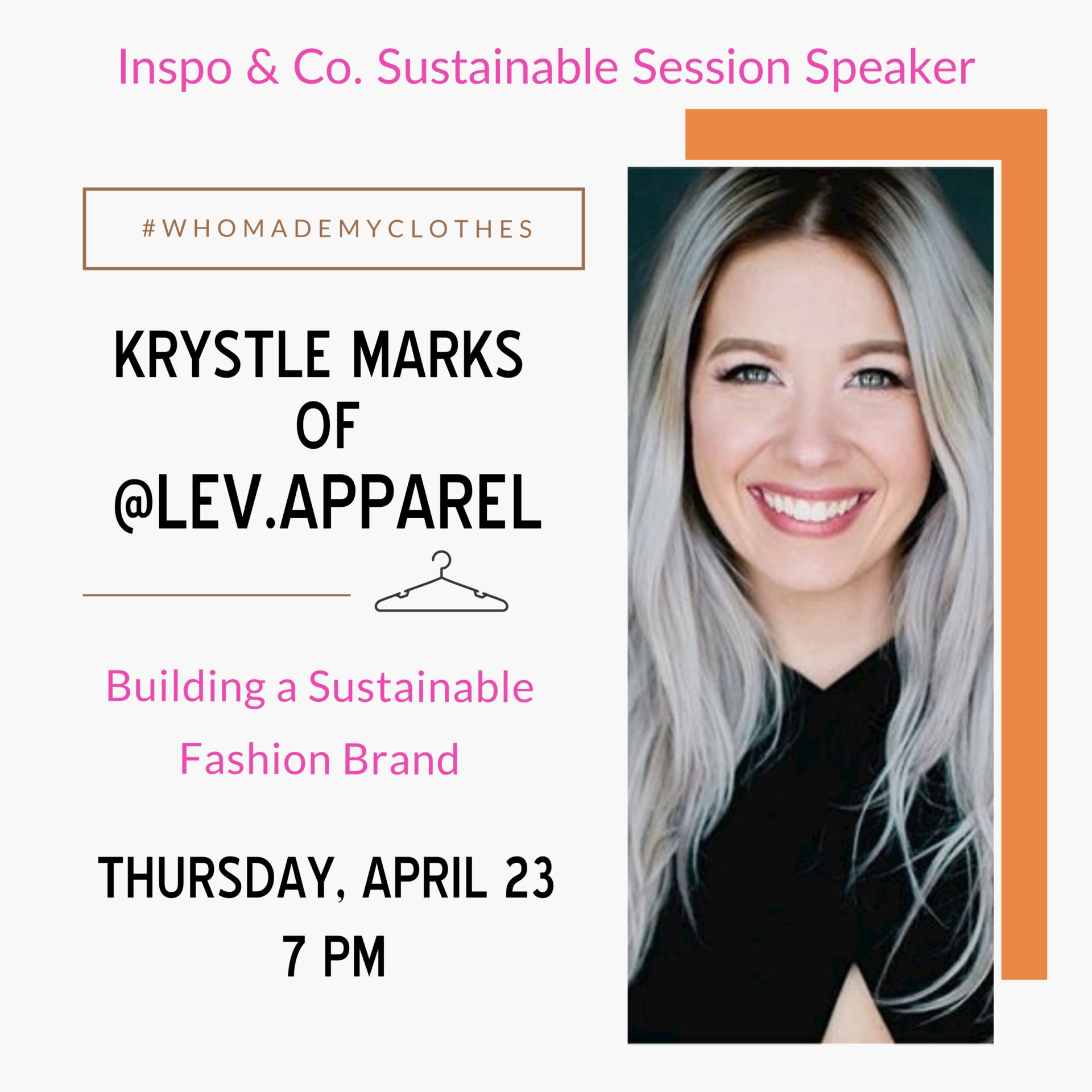 Krystle is the co-founder and lead designer at Lev Apparel which is a sustainable, fairly-made clothing brand that is only two years old! Lev is committed to helping all women feel confident in their clothing by first making sure their clothing is made by women working in a safe environment and for fair wages. Krystle shared how Lev has been a labor of love and some of the struggles that come from starting a business with no blueprint from scratch.
I loved hearing about the little secret stories behind the name of their Nolan dress (for Madisonians isn't John Nolan is always under construction -lol) and how Lev dreams of being able to help more artisan groups get the funding they need. It was so crazy to hear about how many women work in the garment industry, yet do not make a living wage and I am so proud of Lev for doing something to change this!
I had such a fun time this week and if you were able to join us I hope you learned something and enjoyed!
Sustainable Brands/Products That I LOVE
Outside of the Sustainable Sessions I also wanted to highlight a few brands/items that I recently found to help me take action towards leading a more sustainable lifestyle!
To start I am totally loving a new sustainable style brand called Vois. Their collections are ethically made in small batches right in the heart of Chicago! Aside from being made from sustainable fibers and fabrics items are also not made until ordered to reduce waste. Vois also reuses fabric scraps, orders are packaged in compostable mailers AND 2% of the purchase price of every product sold is donated to their NGO partner CORAL whose mission is to save our coral reefs.
They just released their capsule Coral Reef Collection of 5 items that can be worn interchangeably and it is super thoughtful and has very unique details!
You can check them out here! 
Dropps makes it super easy to be sustainable without having to make drastic lifestyle changes. 
With a goal of lessening plastic waste, drops makes detergent pods made with is a water-soluble film using plant-based ingredients. They also commit to no animal testing and using recyclable/compostable cardboard packaging to help eliminate single-use plastic.
I've decided to switch to using their products for my laundry needs because the price it the same if not less then the designer detergent, softener and dryer sheets that can be bought in Target.
Their wool dryer balls take the place of traditional dryer sheets and are usable for TWO -FOUR YEARS. This is a no-brainer for me as I can easily commit to stop buying wasteful dryer sheets that are full of chemicals and are not environmentally friendly. 
Check them out here and get 15% off your order!
Soap is the best way to get clean and many times it is sold in no packaging or recyclable cardboard packaging for waste-free consumption. On the other hand, I really hate how gummy and messy soap can get when being used in the shower. So I decided to solve this problem by purchasing this 10 Pack of reusable loofah bags that hang in the shower! They let you keep using soap even after it gets broken up and I don't need my scrubby poof anymore. I'm going to stop buying body wash in plastic bottles and switch to package-free soap instead. Bonus – no more buying body poofs! If you want to try these bags for yourself, you can buy them on Amazon here!