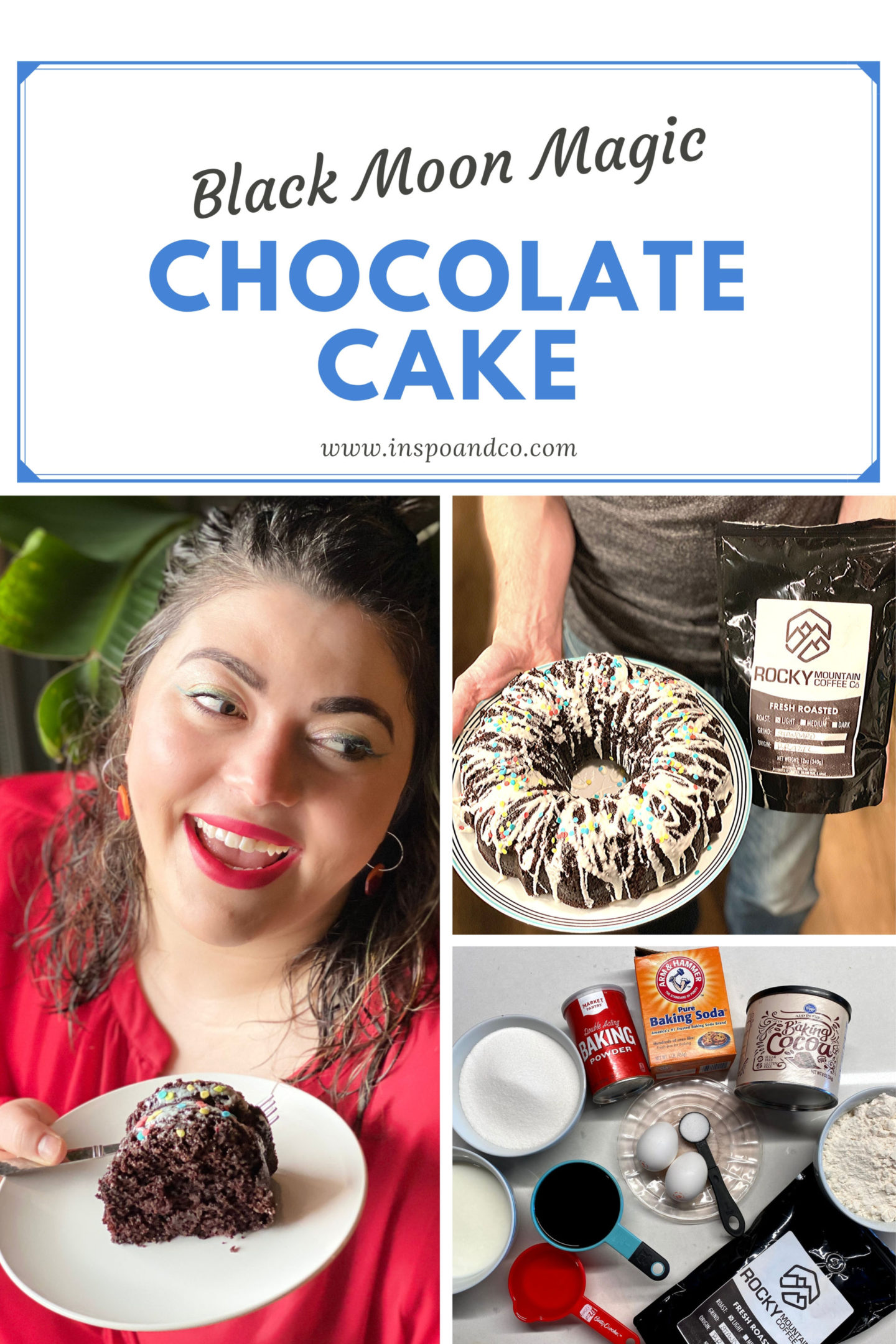 I'm historically garbage in the kitchen. It's a running joke in my family that if I made it – you shouldn't eat it. I've been using this time at home to practice my cooking skills with a focus on trying to make all my favorite desserts. I have a huge sweet tooth and before the shutdown had gotten used to weekly bakery trips to have treats on hand (like chocolate cake). I never realized how easy it was to make some of these at home with just a little bit of time and honestly not a lot of effort.
It's been super rewarding to eat my own creations and have them actually turn out! Baking is one thing that I am going to continue after everything is back to "normal".
One of my most favorite bakes that I have perfected is a Black Magic Chocolate Cake Recipe! I had found this recipe online on a few different sites but the ingredients were always the same.
It scared me at first because it calls for buttermilk and like WTH is that and who has that at home? But after some Googling I found out making your own buttermilk which is basically just sour milk is as easy.  You just add one tablespoon of white vinegar or lemon juice for every cup of milk needed. Let that mixture sit out on the counter for five minutes and BAM you got buttermilk!
After some trial and error, I also concluded that there is a secret ingredient that I am NEVER leaving out of my chocolate cake recipe ever again.  Dun dun DUUUUUUUA……ITS A CUP OF COFFEE!
Don't ask me why but coffee seems to perfectly play off the cocoa powder and make the flavors come ALIVE. It also adds to the moisture level to help create a thick crumb that is SOOOO TASTY!
Rocky Mountain Coffee was kind enough to send me a bag of their beans to try in my latest cake creation and they didn't disappoint! My boyfriend is a morning coffee fan and has been drinking their Brazil Single-Origin Coffee every morning. On days when I want to bake he just brews a little extra for the cup that I need. They have so many yummy flavors on their site and source their beans from local farms – I'm sure you'll find a flavor you love. Shipping in the United States is also FREE right now by clicking here!!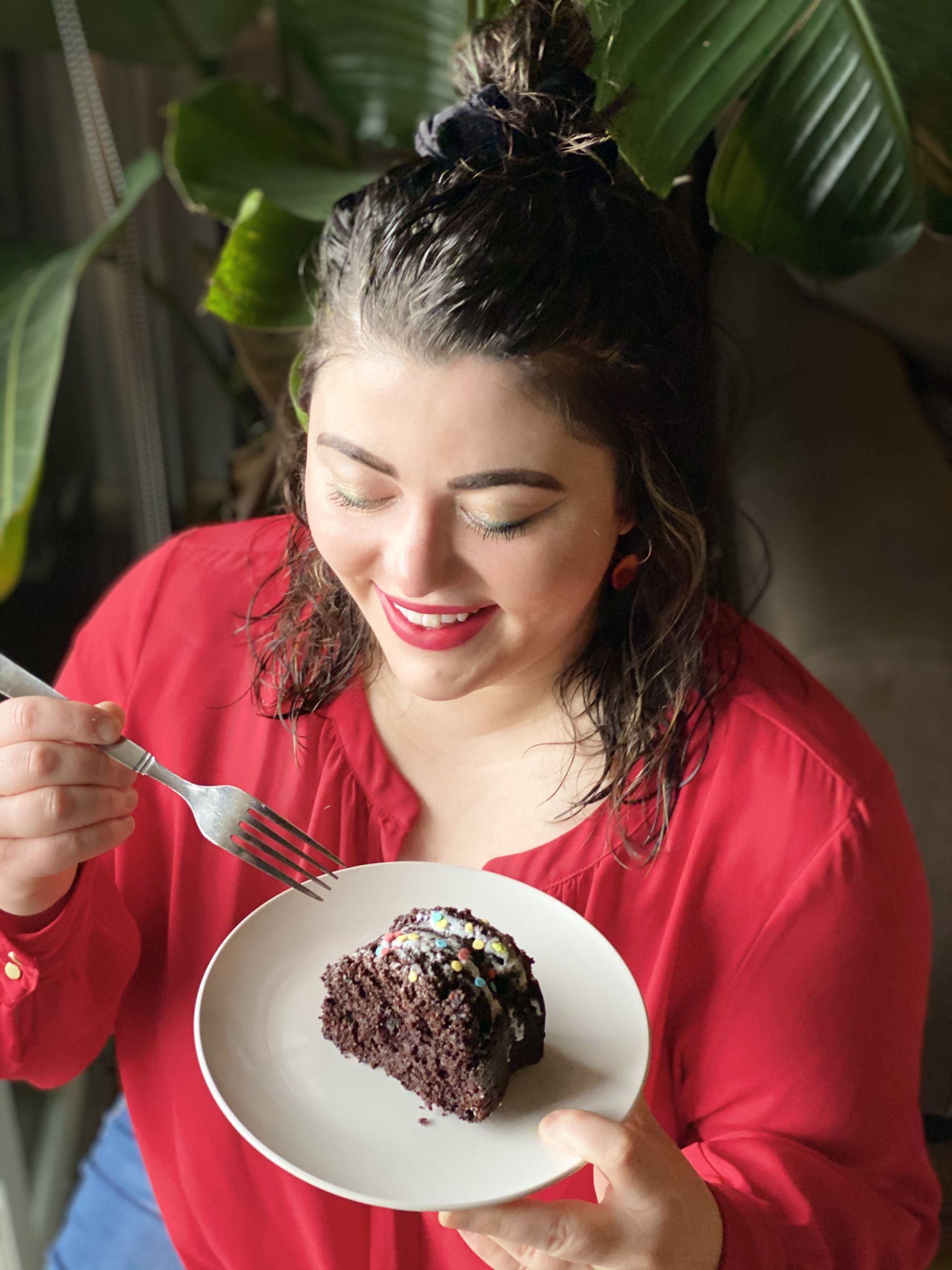 Give my new favorite recipe a try …..you won't regret it!!! PRO TIP -make sure that you grease and flour your pan for best removal results. If you don't have a bundt cake pan..YOU ARE MISSING OUT. They make any cake look instantly fancy and are super easy to use. Grab one for yourself for less than $20 here!
Easy Black Moon Magic Chocolate Cake

Ingredients
2 cups sugar
1-3/4 cups all-purpose flour
3/4 cup baking cocoa
2 teaspoons baking soda
1 teaspoon baking powder
1 teaspoon salt
2 large eggs, room temperature
1 cup strong brewed coffee
1 cup buttermilk
1/2 cup canola oil
1 teaspoon vanilla extract
1 tablespoon confectioners' sugar
In a large bowl, combine the first 6 dry ingredients. Then add eggs, coffee, buttermilk, oil and vanilla. Beat on medium speed for 2 minutes (batter will be thin) or hand whip with a large spoon. Pour into a greased and floured 10-in bunt pan.
Bake at 350° for 45-50 minutes or until a toothpick inserted in the center comes out clean. Cool for 10 minutes before removing from pan to a wire rack to cool completely. Dust with confectioners' sugar, or drizzle with frosting, top with whip cream and berries or eat plain!
Original Inspiration Recipes:
https://tastesbetterfromscratch.com/how-to-make-buttermilk/
https://www.hersheys.com/kitchens/en_us/recipes/black-magic-cake.html
https://www.allrecipes.com/recipe/8372/black-magic-cake/
Baking is one way I am coping with my anxiety right now. Check out some other ways to cope in my recent blog post!