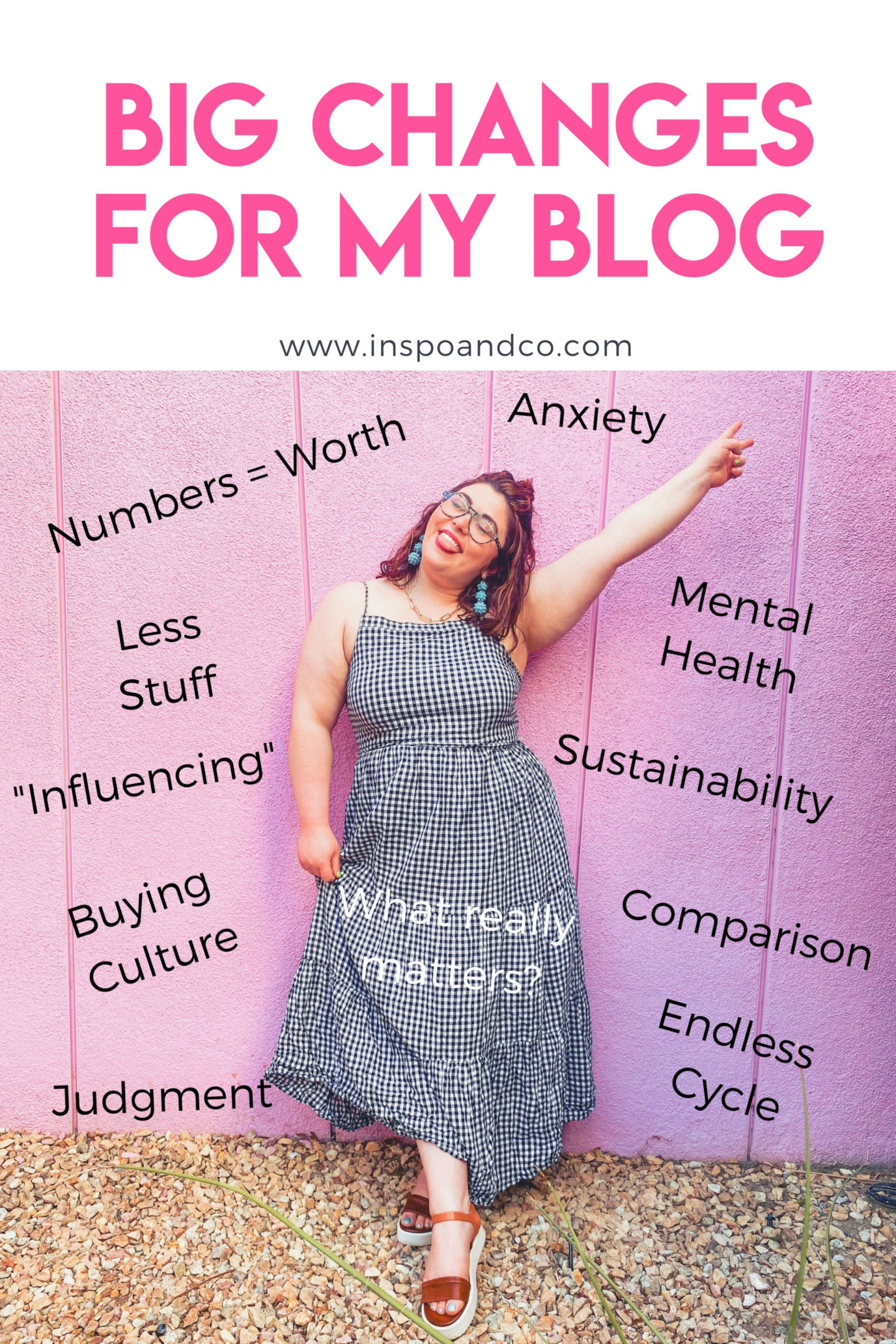 Being forced to slow down due to social distancing has been scary, but it has also provided space for me to contemplate about some parts of my life in a deeper, long-term way. 
I've had thoughts about the things I am going to outline in this post for a while, but I finally feel like I understand my true feelings enough to explain where I am coming from.
The ultimate goal from here on out is to make Inspo & Co. a true reflection of what is going on in my life. What I buy, think and support.
I hope you can relate in some way and that my honesty is taken as growth and with no malice towards any particular brand or person!  
THE STRUGGLE
I've been blogging through Inspo & Co. (and through two other blog names before this one) on and off for years now and have loved having a platform to talk about style and self-love which has been a constant source of enjoyment in my life. 
As being a blogger/influencer has become more "trendy" it seems like platforms have shifted in popularity. Hardly anyone reads blogs as much anymore and social like TikTok, Instagram and YouTube have exploded to be the new cool kids on the block.
It seems like having clout or getting views has become more important over (in my opinion) creating quality content that helps/connects people. 
In some extreme cases, it can simply be boiled down to an influencer jumping on the latest trend and trying to do it in the strangest, cringe-worthy, overshared way in order to get people to look at your content. 
Personally I have always struggled with how to treat my blogging. Should it just be a hobby that I enjoy or run like a business since I do get brand partnerships and compensation from some of the content I make. 
Along with the rise of influencer marketing, it's easy to compare yourself to others and feel like you are not doing enough. Not expanding to the right platforms, using the right hashtags, reaching out to the right people or producing new content as quickly.
I'm even finding that some blogging events (or exclusion from them all together) have become more of an influencer popularity contest then an opportunity to make new friends or truly encourage and support others in the content creation community. 
These observations have caused me to go through periods of extreme self-doubt and comparison. I would focus so much on numbers, likes and how I could grow – joining influencer engagement pods, paying to be in giveaways and spending hours scrolling on the accounts of my "competition".
Because I am a perfectionist at heart, I would push myself to spend more money on items to make content with, become more obsessive filming full videos I would never post because they weren't good enough and harbor resentment towards people who's opinions I shouldn't have even cared about in the first place.
I would also agree to collaborations that I didn't fully support because I thought I needed fresh content to compete (nothing bad – just maybe products I didn't really love or clothing I wasn't a huge fan of).
As you can imagine – this all took a toll on my mental health and really peaked about a year ago when I needed to have an emergency appendectomy.
I stopped creating as much content then in order to give myself a chance to get healthy and ever since then have not felt like my heart has been in it 100%.
I haven't known completely what to do about this since I knew I didn't want to fully stop – but didn't know where to go…until now.
THE SOLUTION
Since quarantine started I have been using Inspo & Co. as a creative platform to help with my anxiety and explore things that I really care about in an effort to learn more.
I haven't cared so much about the numbers or if things looked perfect or if I was sticking to a color-coordinated content plan that was created a month in advance based on the most recent engagement practices as outlined by trendcasting authorities.
I've made less content than before – but felt really good about what I did produce and invigorated by the connections and interactions that came from it.
I've spent the time I gained back from obsessing over if I was as good as my influencer peers by learning how to garden, falling back in love with yoga, cultivating the best dating relationship of my life, listening to mystery audiobooks and becoming a pretty good baker (if I do say so myself). 
As a byproduct of this shift in priorities something became clear to me that wasn't clear before and now that I can see it – I have to act on it in order to live the life that I truly want. 
Which means some things with Inspo & Co. have to CHANGE.
ONE – 4 STAR PARTNERSHIPS
I am going to be changing how I shop for clothing.
I've created a 4 Star rating system to help direct my purchases and to be more transparent in what I buy.
Items in my closet can be up to four stars!
One for – Sustainable
One for – Size-Inclusive
One for – Secondhand
One for – Small Business
I will not be buying or working with brands that don't qualify for at least one star.
This also leaves a gray area as the more I have learned about sustainability – the more I am sure that the fast fashion industry is killing people and the planet – and I am NOT ok with that. 
BUT – I am a plus-sized person and many of my followers are too and I want to be a champion for size-inclusivity. So there may be times when I promote, buy or work with brands that are not sustainable, but provide size-inclusive options.
I will do my best to always be honest about this, limit this type of buying and to only show things I really love.
These new changes will also mean – I will NO LONGER collaborate with some of the influencer partners that I have in the past. Not to name names, but I have had a few longstanding partnerships with extremely fast fashion brands that are online only and making very cheap, low-quality items.
Many times I would literally wear their products for a single photos and then donate them because it was basically like wearing paper. 
I cannot morally do this anymore, even if it means losing out on a revenue stream. 
I hope these changes can help me save money, cut down on clothing waste and result in a closet of clothing that I can feel good about, that makes me happy and that I actually love to wear!
TWO – "SELF-WORTH BASED SPENDING"
I am going to do a better job of showing you things that I actually care about and use (like I have the past few months).
Many a influencer makes their living by having to constantly buy products. They market the products to their followers in hopes that you will click on their affiliate link. This can be a HUGE source of revenue. I personally struggled with feelings of wanting to be more mindful but then potentially having to turn down partnerships or not be able to make regular affiliate income due to not constantly buying stuff to promote.
Ultimately I have decided that having a house full of stuff that I don't even like or use is wrong. I also think that encouraging others to mindlessly spend is wrong and perpetuating a culture of "nothing is ever good enough you have to constantly upgrade" is mentally harmful and environmentally disastrous. 
So I am willing to be more transparent about what I actually buy and use even if it isn't "perfectly instagramable" because I want to stop the mindless spending cycle. And I am also willing to lose out on potential income because I don't believe mindless buying is what's best for you or me.  You are completely worthy without the latest whatever. So much spending is based on marketing ploys to try to make you feel better about yourself instead of reminding you that "things" are never truly important in life.
I do buy a lot of stuff, but am ok with it if it actually has a purpose in my life. And if something I honestly buy has an affiliate link I will use it. I totally love using influencer links for people I follow because I want to support their work! 
THREE – THE NUMBERS GAME
I am not going to care about social following numbers anymore.
I read a book once on the intersection of creativity and commerce (you can read for yourself here). The author suggested that if you are a painter you should never have to represent the sale of your own work to a buying audience because as soon as you get caught up in the numbers of what sells and what doesn't – you will change the way you create. Your art will become tainted as it will be made not from a place of expression and creativity – but of consumerism and to fill the needs of others. 
To me –  Inspo & Co. is not fulfilling if it doesn't serve as part creative outlet, part diary and part platform to form genuine connection. 
As soon as numbers become involved a sort of morbid influencer competitiveness sets in and I begin to hate all social media and want nothing to do with it. 
I can almost guarantee that this change will naturally drop my following number as people who only followed to win big giveaways realize they don't align with what I am about. 
I am totally ok with this as it makes room for new people who do want to actually connect.
I'm not saying I'll never do more giveaways…I LOVE giveaways. I'm just saying I will only do them in collaboration with people and brands that I support and not just as a ditch effort to gain more followers. 
This will also help me focus more on posting what I want, when I want because I won't be judging myself for not posting at 9 AM when I could have got more engagement even if I needed to sleep in that day for my mental health or talking about something I don't care about just to jump on a trend. 
I may take full weeks off of social or have months will two posts and a video every week. In any case, I am going to follow my heart (creativity/honesty/connection) and not my mind (numbers/judgment/comparison) from here on out. 
DISCLAIMER – I am in no way suggesting I only shop sustainably or never buy things just to buy them. Basically I am just a normal person who also can emotionally shop, be hard on myself, make uninformed purchases and I don't know everything. 
I just want to be more mindful and put what is most important in my life at the forefront and I hope these changes will do just that.
Thank you for supporting my Inspo & Co. journey so far! Every message, comment and collaboration mean so much to me. I can't tell you how happy I feel when I hear that something I said helped someone feel better about their body, made them love their closet more, brought a smile to their day or inspired them to make a life change.
You can continue to support me by sharing my content with others, joining my email list, liking my social media content, visiting my blog or considering using my affiliate links if you want to make a purchase. 
I hope my little corner of the internet continues to bring you some joy.