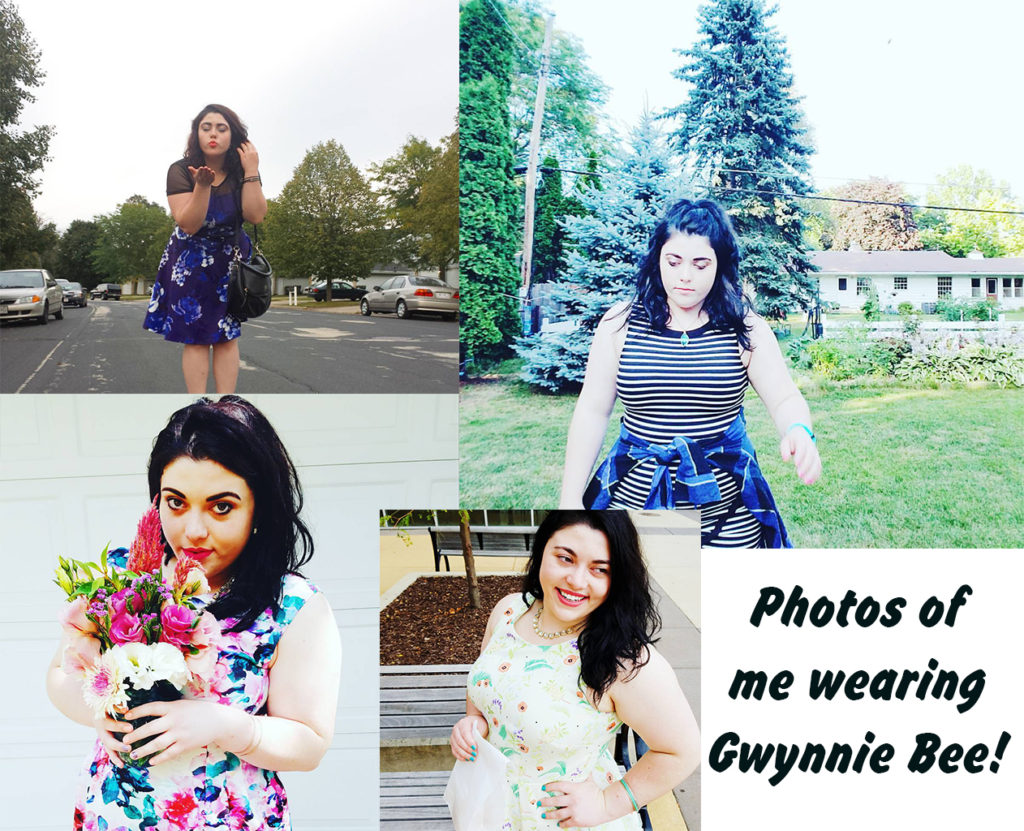 I am always getting asked where I get my clothing from. I really enjoy finding new brands and unique items to wear so about 50% of the time I rattle off some random thrift shop or online store when people inquire about where to find my pants or dress. The other half of the time, I have to say I am wearing Gwynnie Bee. If you are not familiar with this company let me fill you in!
What is Gwynnie Bee?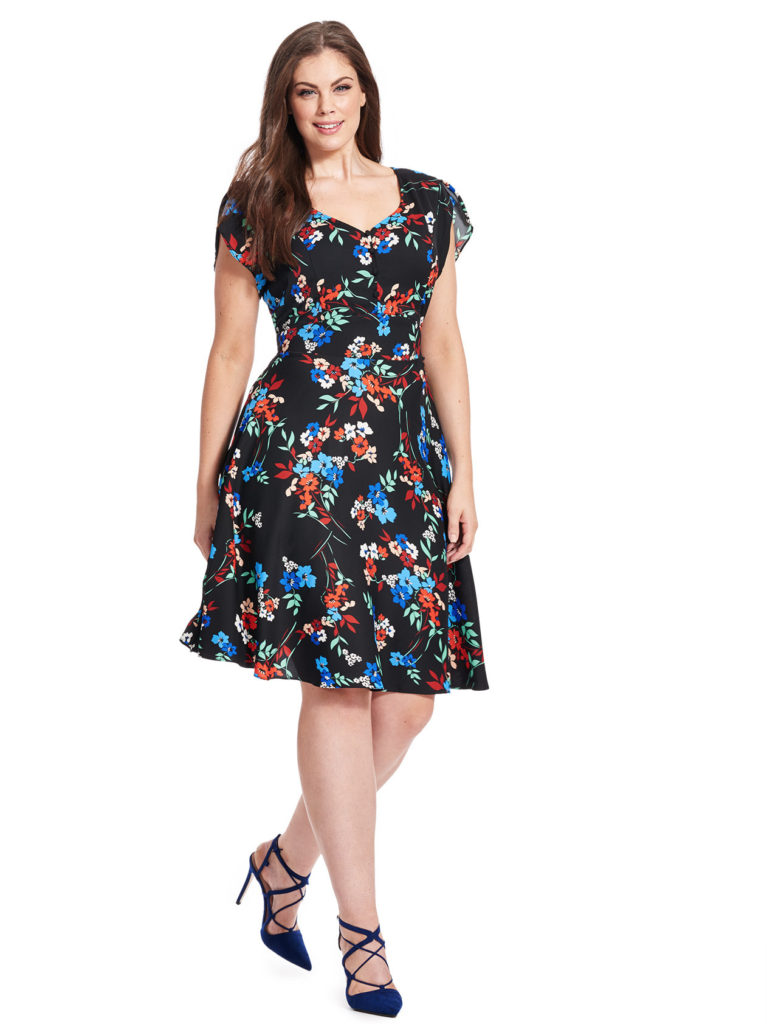 Gwynnie Bee is a clothing subscription service for women sizes 10 to 32. You can select from a $49 plan to rent one item at a time or up to 10 items for $199 per month. I chose a mid-level plan at $79 for three items at a time.  Pricing has recently gone up for brand new members so a new three at a time plan would be around $95. I am not getting paid or compensated by Gwynnie Bee for my subscription or this post – Just keeping it real for you!
Gwynnie Bee has a huge selection of plus-size clothing that you can browse and select things that you like, in your size, to add to your personal online closet.
Then depending on your plan, GB randomly selects up to the number of items you pay for from your closet and sends them to you.
How does clothing renting with Gwynnie Bee work?
You can wear items for as long as you want and then simply toss them into a provided pre-paid mailing bag, pop them in your mailbox and send them back to Gwynnie Bee. You don't even need to wash anything before you send it back! Once you have marked your items as returned, Gwynnie Bee will search your online closet selections again and send another package of items your way.
They do all the dry-cleaning and sanitizing before sending the item out to another fashion forward babe.
While you only pay one set fee a month, you can get as many shipments of clothing that you want as long as you don't go over the number of items that you pay for to have out at one time.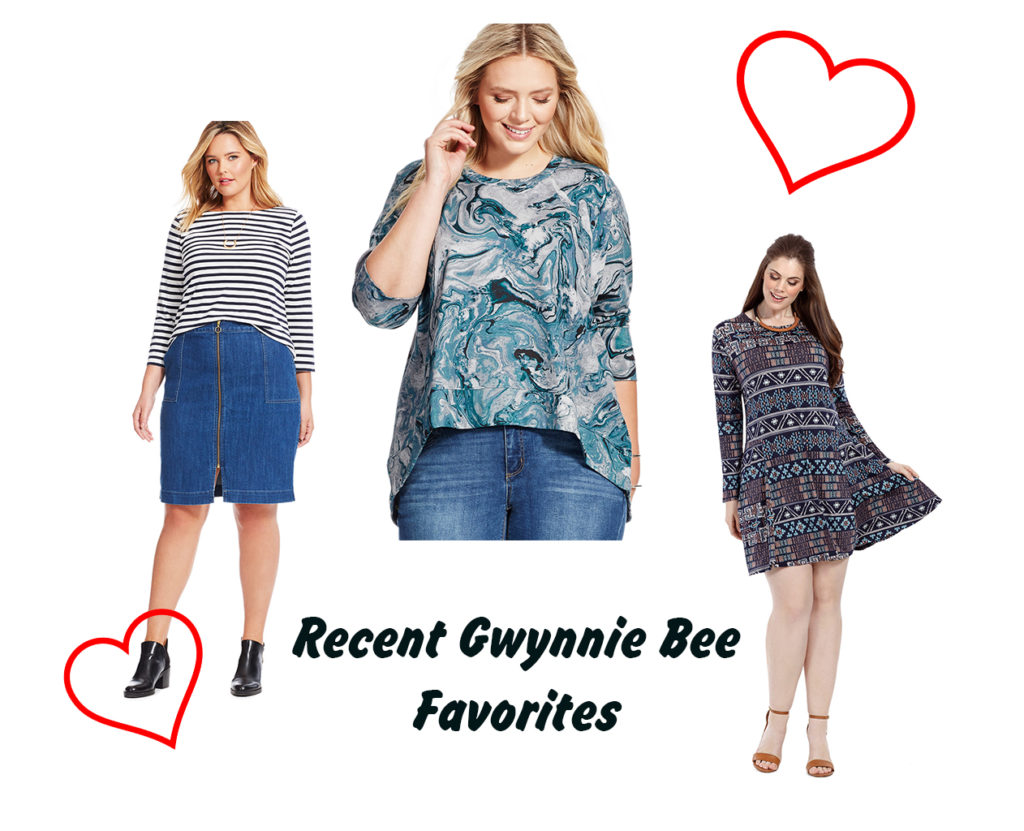 For example: I have the three items at a time plan. I get three items sent to me and I don't really like the fit of one dress so I choose not to wear it. The second dress I get, I wear right away to work the next morning. By the day after receiving my first mailing of the month, I would be finished with two items already. NO PROBLEM! Just toss them both in a mail back bag, mark them online as being sent back and GB will immediately prepare two more items to send out to me so I always have three items out at my house, at one time.
Here is an explanation from Gwynnie Bee's website for further explination!
What do I think about my experience with Gwynnie Bee?
I LOVE GWYNNIE BEE!  once I got the hang of shipping times, I was able to figure out how to constantly be wearing, adding items to my online closet and mailing items back there is a steady new shipment of clothes arriving at my door about every four days.
Gwynnie Bee also adds new items to choose from weekly so there is never "nothing to wear". I am obsessed with the quality of the brands they choose to work with and how on-trend their clothing offerings are. The price may be a bit high, but if I were to buy each item that I am able to wear through Gwynnie Bee each month, it would cost my thousands of dollars.
If you are someone who loves wearing new clothing and mixing up your look or constantly have a need to have outfits for special events or for your job, the investment in Gwynnie Bee will literally pay for itself in one month.
One of my goals has been to overcome my eating disorder and respect my body better. I know that as I get farther along with my progress I am going to start loosing weight. This might sound strange, but one thing I am truly sad about is possibly being too small for Gwynnie Bee! I've researched tons of straight-size clothing rental options and none of them seem to have the quality, selection and fast shipping like GB does. In the meantime, I am going to enjoy it for as long as I can!!
A secret Gwynnie Bee perk!
Gwynnie Bee also has a shop where you can buy "older" clothing that they clear out to make room for new rentals. This is a "secret" perk of Gwynnie Bee because these items are usually sold at up to 85% off their original price. I am talking I get $140 dresses for 12 bucks on the regular.
I just bought a ton of clothing from a recent Gwynnie Bee Shop sale and put all my purchases into a haul video for you!
I will be doing a try-on video soon so you can see how each item looks on a real, live body.
Style doesn't have a size! Gwynnie Bee makes it easy to flaunt your beautiful body, love your clothes and yourself! You can check out GB for yourself here and get a month of fashion for free! I have friends who just used the free month during a time they had lots of events and then never continued a subscription. Play dress up for a month, why not!
Do you subscribe to any clothing rental companies? Anything I should check out?