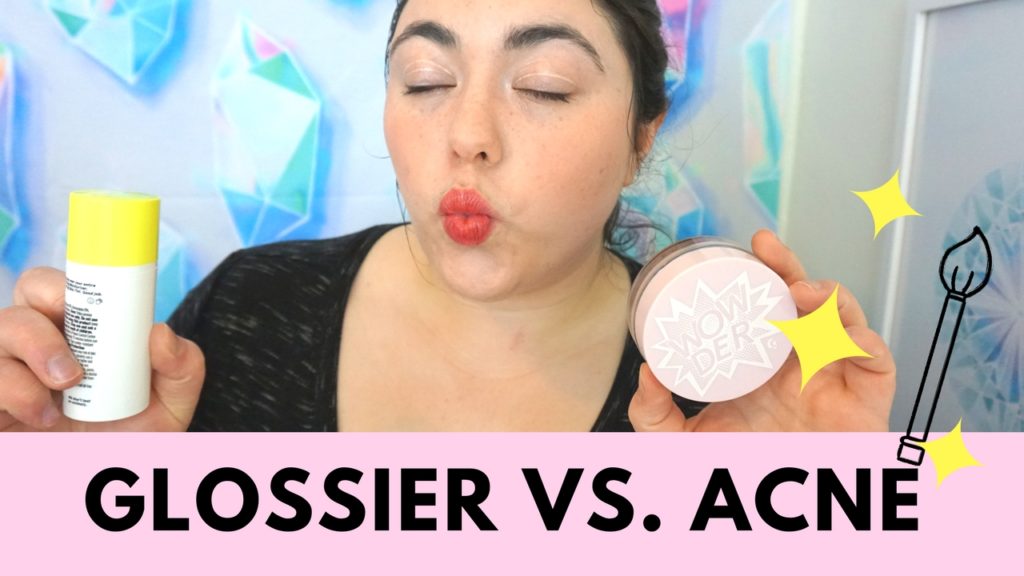 Glossier is one of my favorite brands when it comes to easy, no fuss makeup looks. I've heard their products compared to "beanie babies" for streamlined makeup lovers because they are so pretty and easy to collect.
Ever since I did my first Glossier haul video, I've regularly checked their website for new product launches and still relish the shopping spree I went on when I visited the Glossier NYC showroom last fall.
I almost always read product reviews online before a buy anything and it was the same before I made my first Glossier buy.  They were mostly positive, some negative – but a reoccurring question was if their makeup would work well covering up acne.  Glossier promotes a "skincare as makeup" mentality which means their products can be healthier for the derm, but only provides sheer coverage.
It's crazy to think that anyone could be blemish free every day, so Glossier has gotten some flack for offering products that don't cover flaws – which is what most people use makeup to do.
Well, I decided to put my stash to the test and do a full face of only Glossier products on a day when I was totally breaking out.
The results were….. well see for yourself!
You can give Glossier a try and save 10% on your first order by using my custom order link here.