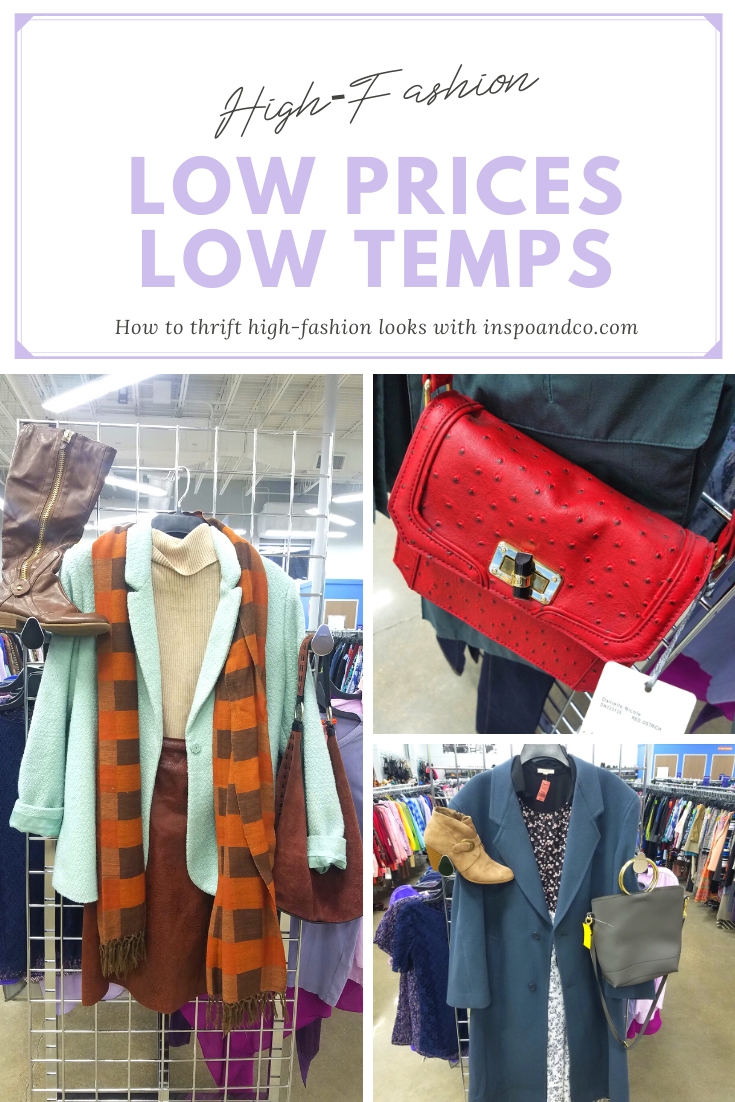 Living in the Midwest can make the most dedicated fashionista think twice before stepping out in her winter wardrobe. It's hard to enjoy a fun outfit when you're freezing! That is why in this month's edition of #HighFashionLowPrices, we are going to be tackling what to wear when the temperature is also LOW!  
I visited my local Goodwill Middleton location again on a mission to find outfits that will keep you warm and that are on-trend. As per usual, the store was full of amazing options and it was super hard to choose only five final looks. 
Here are my favorite winter styling tips and outfit picks!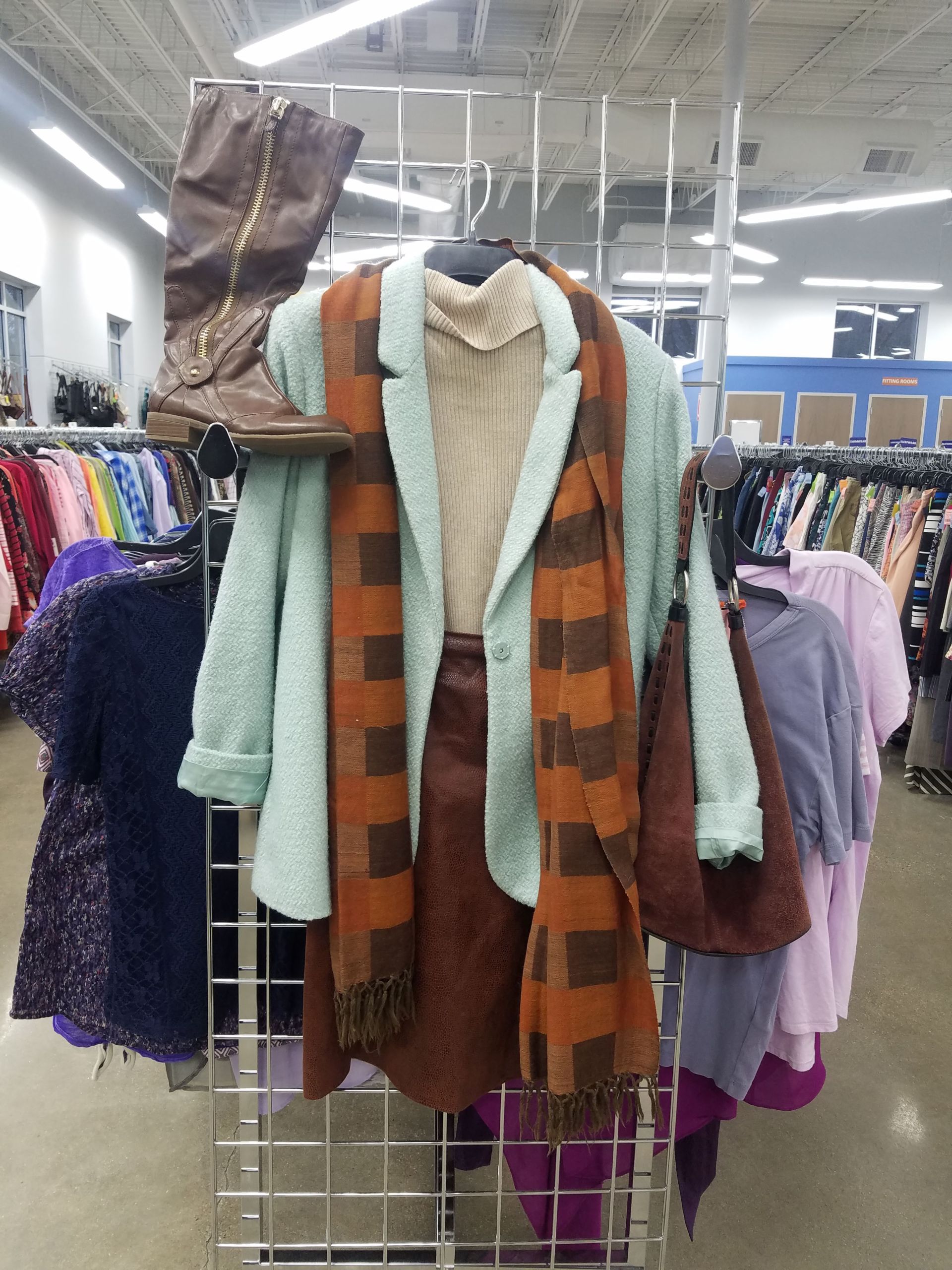 Layer a chunky turtleneck under an insulated blazer to stay as warm as a mug of apple cider. I paired this trendy Chicos skirt with a simple top to really let the fun scarf and blazer pop.  The turtleneck gives a little extra insulation and wearing a knee-high boot will warm you right up. You could wear tights with this look or if it's really cold, break out a pair of thick leggings. No matter what the weather is you will look put together and polished! The best part of this outfit is that not a single item cost over eight dollars!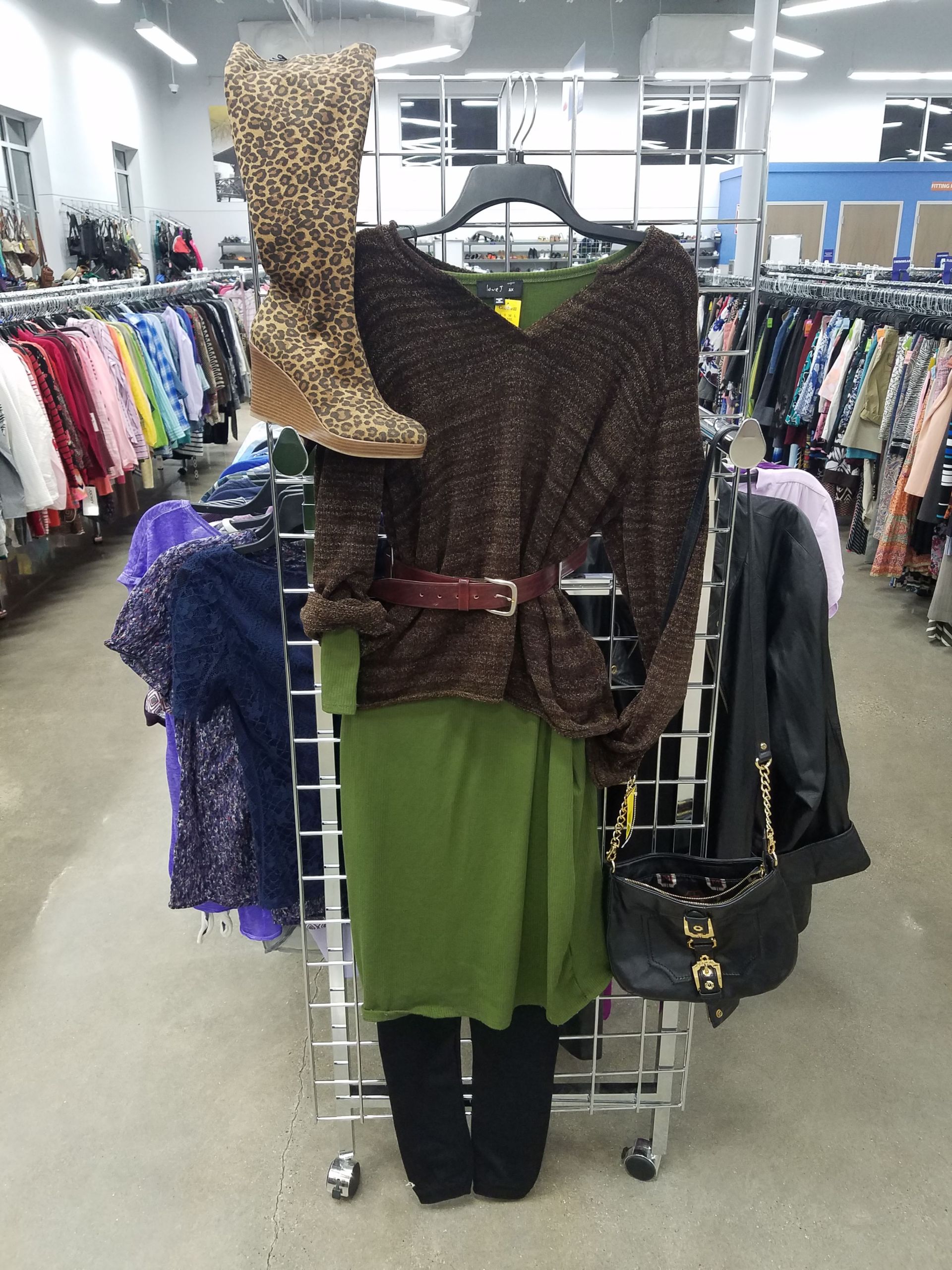 2. Try this unique combination! You don't need to put your fave fall dresses away – simply treat them as a base layer and pile a thick sweater on top. I added some thermal leggings that will slip perfectly into a fun pair of knee-high boots. I couldn't believe this totally trendy cheetah print pair was only nine dollars!  Belting oversized items can help define your waist and keep you looking put together even under bulky winter items. Top the look off with your favorite coat and you are ready to brave any winter wonderland.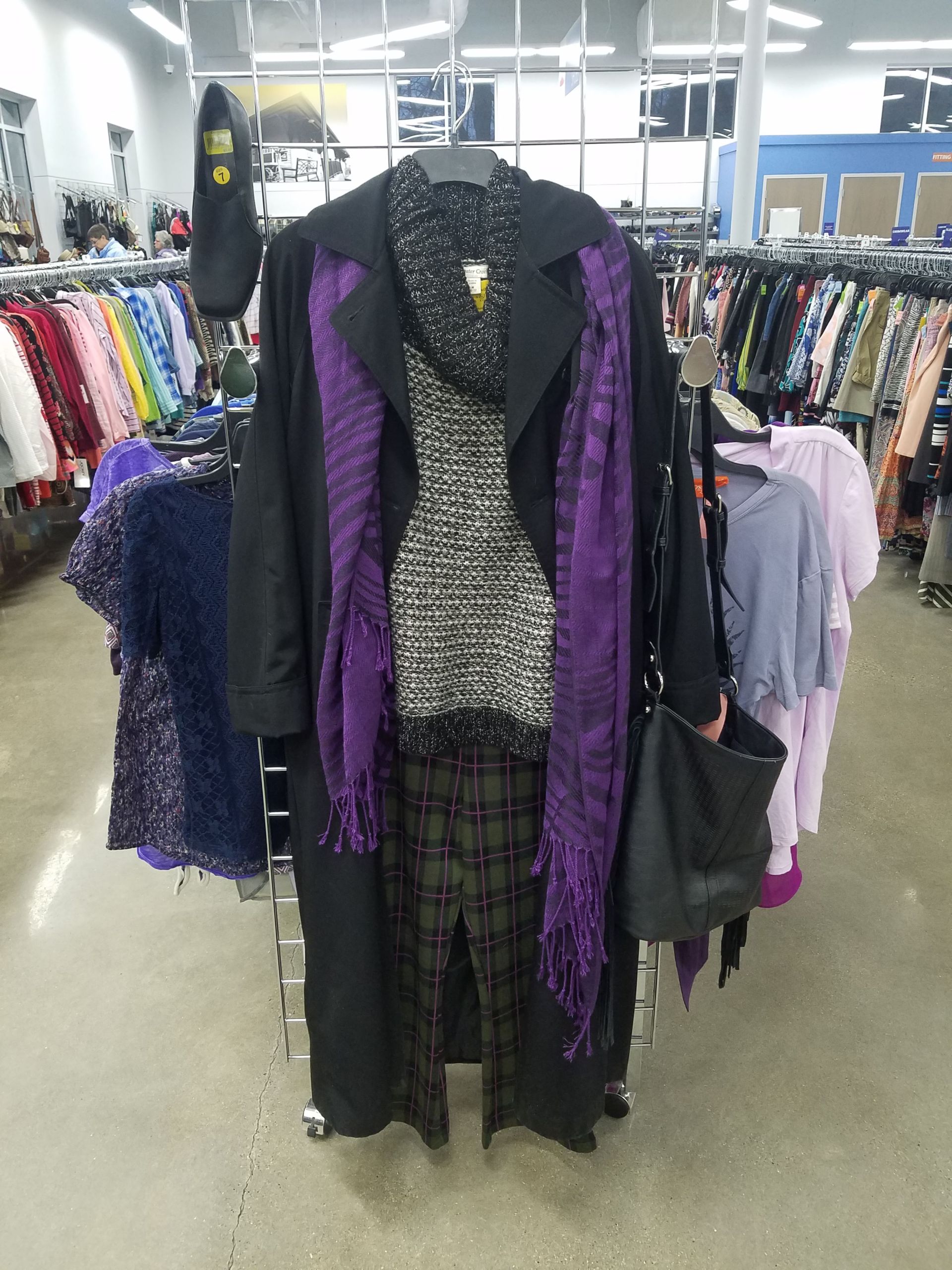 3. A Coldwater Creek tunic sweater and brand new Wild Fable leggings go together like marshmallows and cocoa. When trying this look for yourself, find a sweater that comes down to about mid-thigh so that you have an extra layer of warmth. Look for a fun legging print to bring a little extra style to seasonal colors that are typically muted and dull. Finally, you can never go wrong with a perfect vintage coat for only thirteen dollars – which was the most expensive item in the look. Everything else was under nine bucks!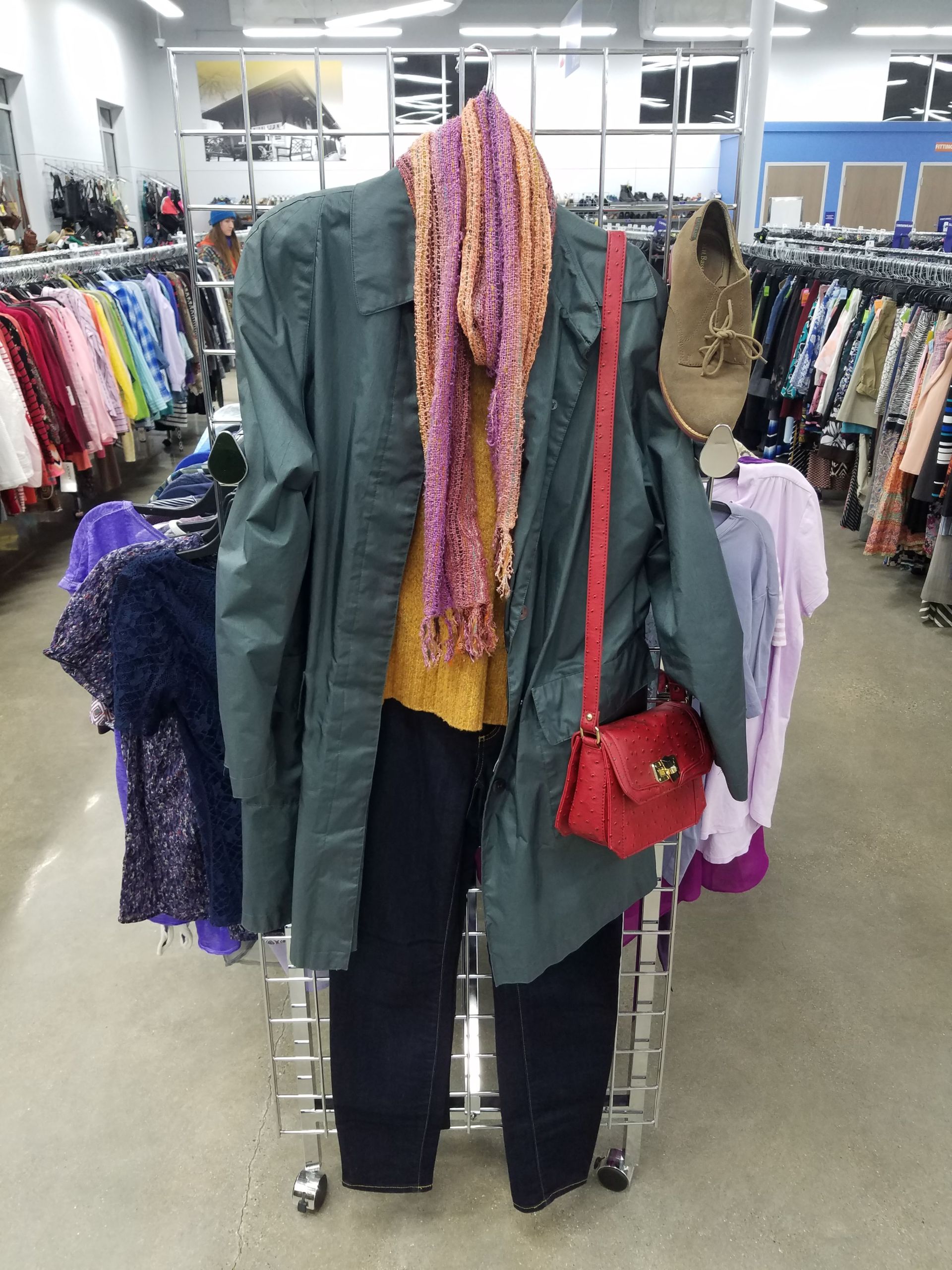 4. Denim is awesome for any season. Go for a dark, skinny jean and don't be afraid to wear tights underneath in case of record cold. Spice up any look with fun seasonal accessories like purses, scarves, hats and gloves. I found a brand new bright red Danialle Nicole purse for only eight dollars and loved the way it looked paired with a mustard Eileen Fisher sweater. There were so many other accessory options at Goodwill Middleton in everything from zebra print to faux fur. Bold color isn't only for the summer!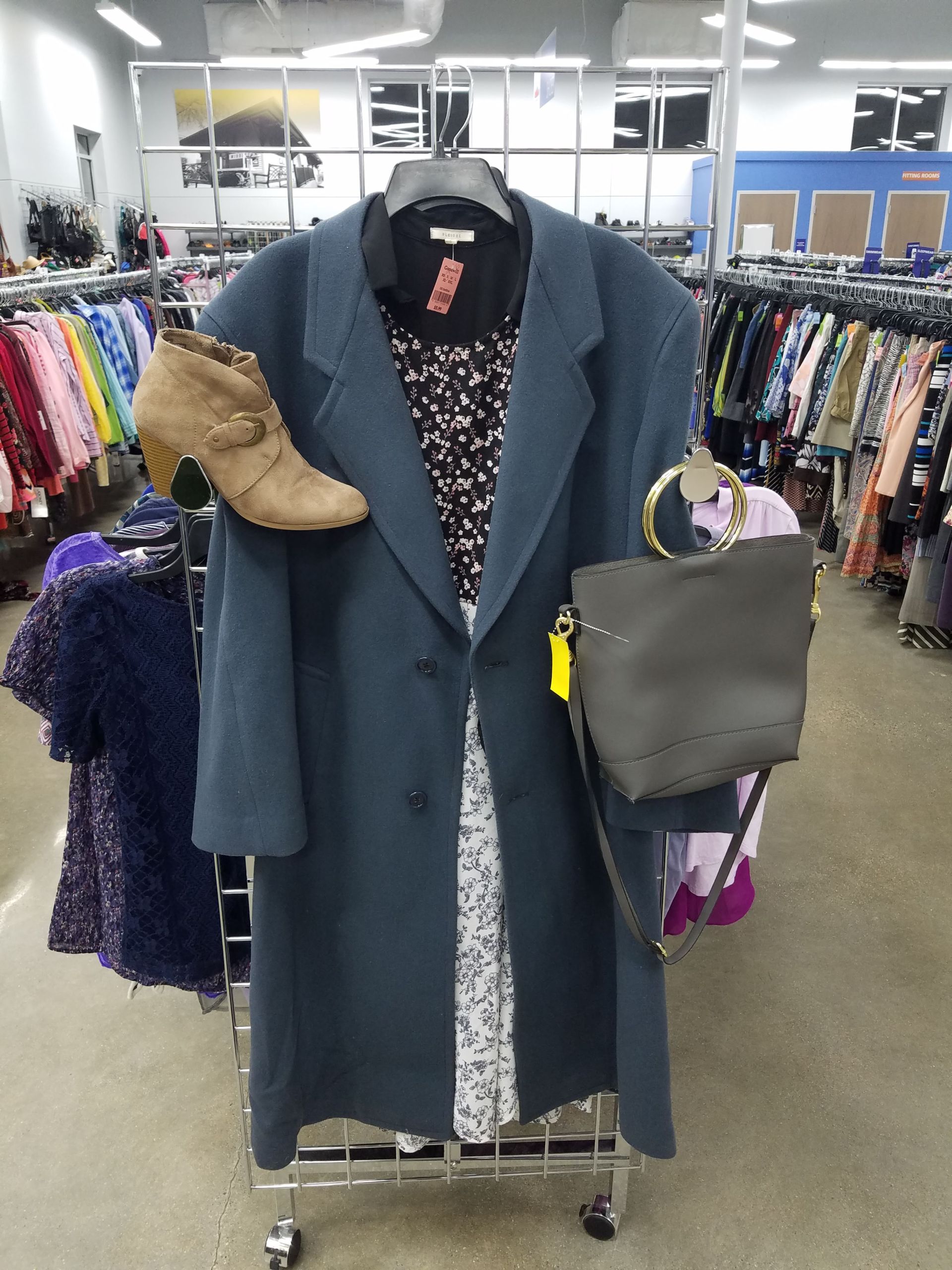 5. No sleeves? No problem!! Button up a work blouse first before you throw on your favorite summer dress maxi dress. I was in love with this beautiful floral print Simply Noelle dress that still had its original tags. Pairing it with a chic black top and vintage wool coat for only twenty-five dollars made the look winter-appropriate. As always you can add some tights for extra warmth or even some cute knee-high stockings. 
I hope these outfit ideas challenge you to be creative with your layering this season. Make sure you always start with the tightest layer first and work your way up to anything with a heavy knit or textured fabric so you can stay warm and look cool. This technique is also the easiest way to quickly remove layers if you get overheated or have to go from outdoors to inside frequently. 
If you would like to shop more trendy Goodwill style finds, visit Goodwill Middelton and check out my hand-picked rack. I've filled it with all my favorite winter items that will be sure to keep you warm all season. And if you want more sustainable style inspo – don't forget to follow me on Facebook or Instagram @Inspoandco!
Which look would you rock?