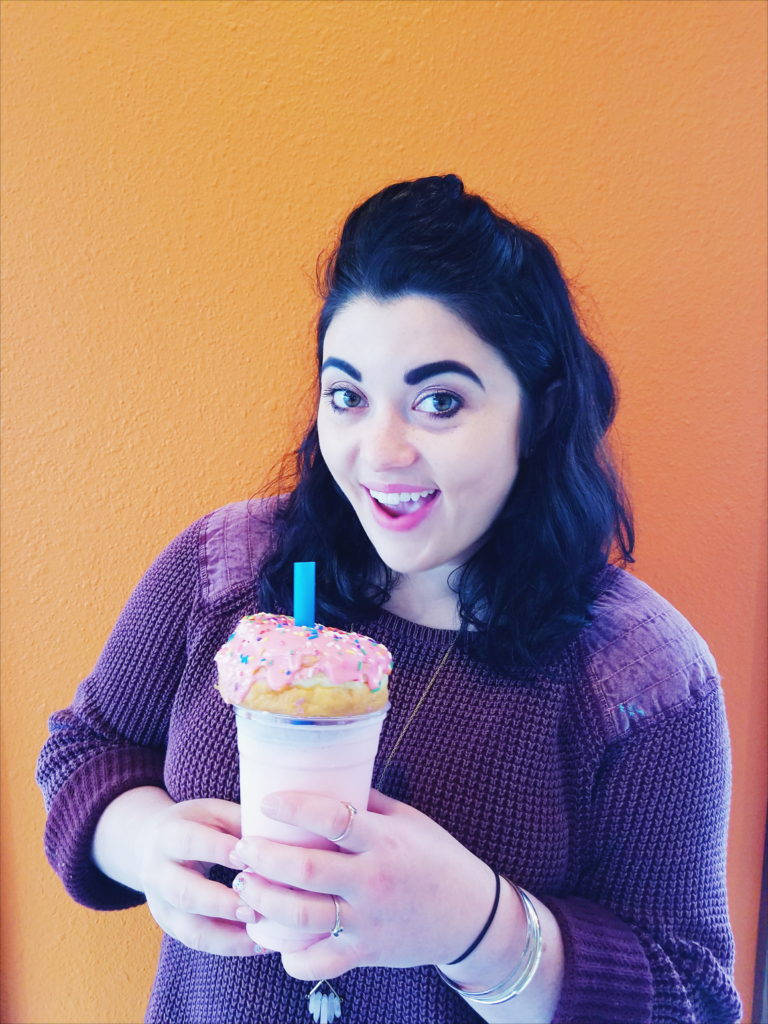 It was pretty cold at 5am on the morning that Hurts Donut in Middleton opened, but that didn't stop a huge line of people from waiting overnight to get their hands on some sugary goodness!
I visited on opening day right before lunch to try and get some donuts of my own and ended up waiting only a half-hour which wasn't bad considering the instant popularity of this young bakery.
With over 21,000 followers on Facebook alone, its safe to say that Wisconsin wants some Hurts, and they want it really bad!
I was hoping that the shop would live up to all of their drool-worthy donut pictures that had been flooding social media for the past few months. I can safely say after my first trip to Hurts, the hype it worth it!
Here are my top five reasons why you must check out this unique donut stop.
1 .They have a crazy variety of flavors and donut decorations.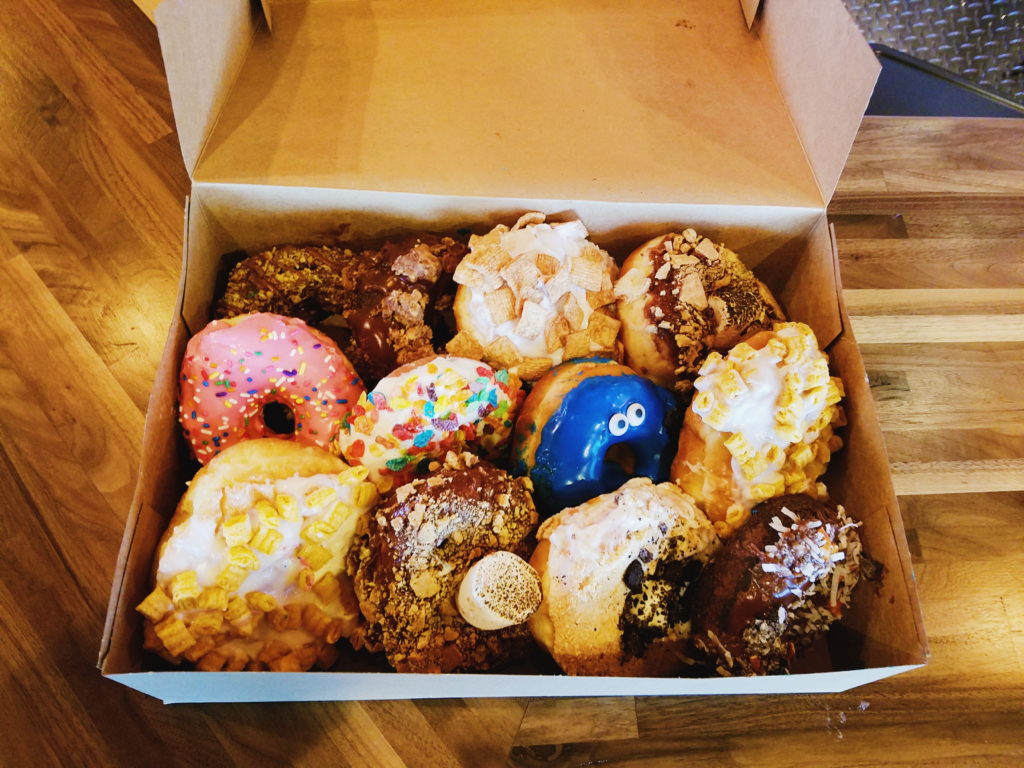 I will give you 7 dollars if you cannot find a donut flavor that you like at Hurts. Peanut butter, chocolate, s'mores, cereal, caramel, girl scout cookie, sprinkles, cookies and cream…you name it, they have it.
Each donut is so flavorful and piled high with said toppings – I tried three of their donuts over the course of two days and honestly, they were some of the best donuts I have ever eaten.
2. Super cool hangout space upstairs.
The whole upper floor of the shop is made for hanging out. They have a ping-pong table, indoor cornhole, video gaming stations and tons of space to relax, talk and eat donuts.
You can easily skip the line and access the upstairs area from an elevator by the front door and then head back down for some donut goodness once the line has gone down. But be warned – I can see this space getting really busy during the nearby high school's lunch break.
3. Fun decorations and attention to decor detail.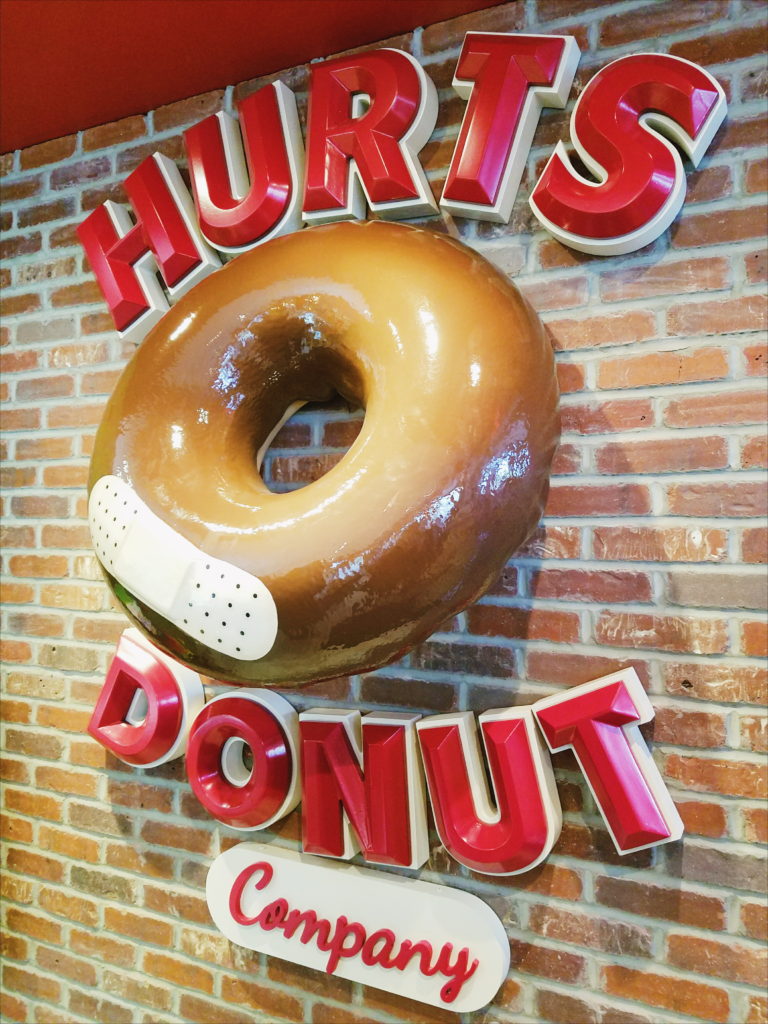 Sprinkle wallpaper, cleaver signage, a giant 3D donut and bold colors galore make Hurts Donut very visually appealing – aside from the actual donuts.
There were so many little nooks that would make for great photo backdrops, it would be pretty hard to take a bad donut selfie no matter where you were in the shop. The atmosphere felt super kid friendly, without being childish.
4. THE DONUT MILKSHAKES.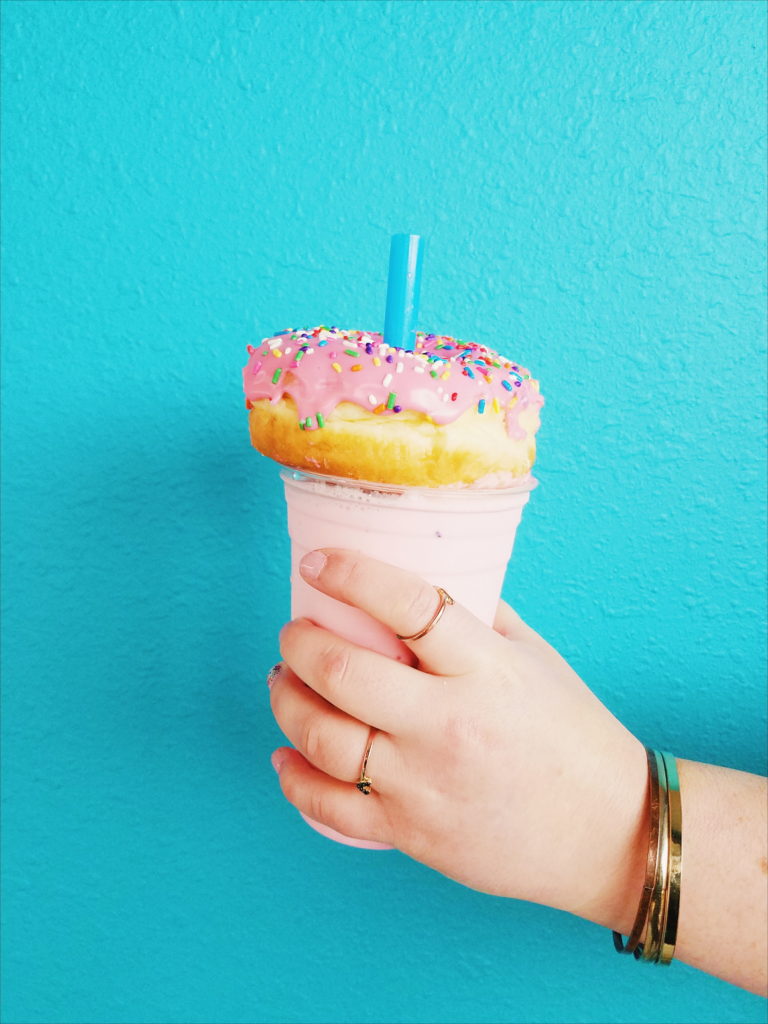 These beauties will give you sweet dreams for days! They come in one size, cost five dollars and can be made from any donut they have in the case. The milkshake has a donut, blended into it and then another full donut topping it – strung right around a large colorful straw. This treat is definitely meant to share and could probably put you in a sugar coma, but gosh darn – it tastes (and looks) sooooooo good!!!
5. 24/7 Donut Access and Delivery.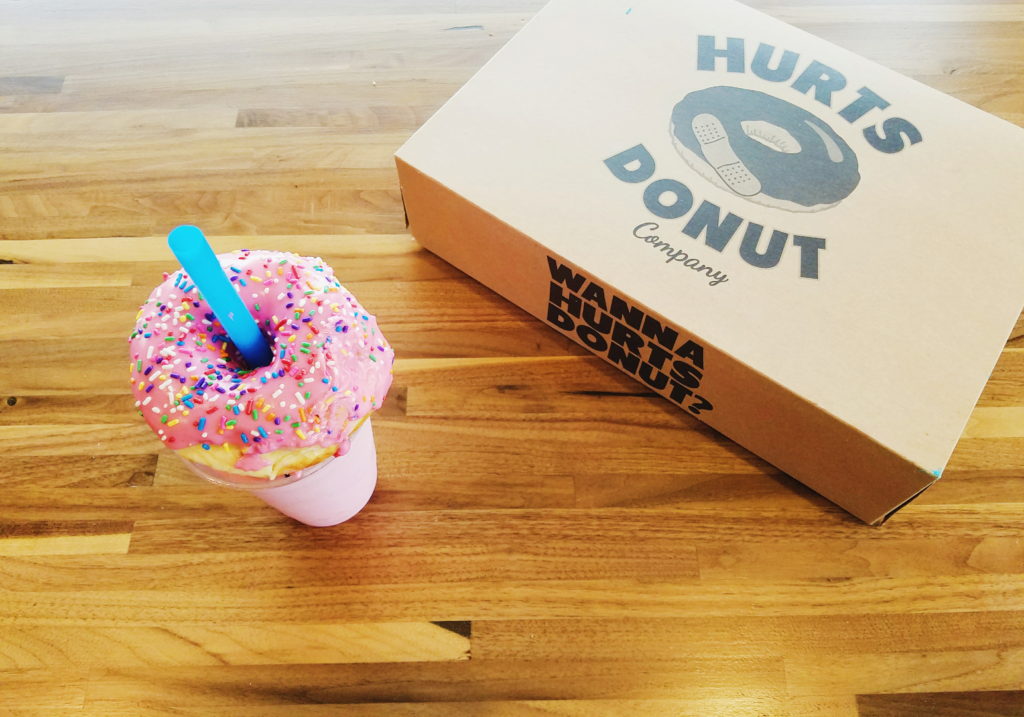 You can get your hands on Hurts any day, any time. The shop never closes. They also have what looks like a detailed ambulance all set up and ready to deliver during a donut emergency. Visit after a Friday night at the bars, have donuts delivered for a coworkers birthday, grab a milkshake after you get off the late shift. Its so dangerous and amazing at the same time. Any occasion can now be celebrated with a scrumptious donut treat!
I hope these reasons are all the convincing you need to give Hurts a try. Plan your visit during an off-peak time, like during dinner or really late at night to avoid lines and get your donut on faster.
After your visit, I would love for you to comment below and tell me your opinion of Hurts Donut too!